Events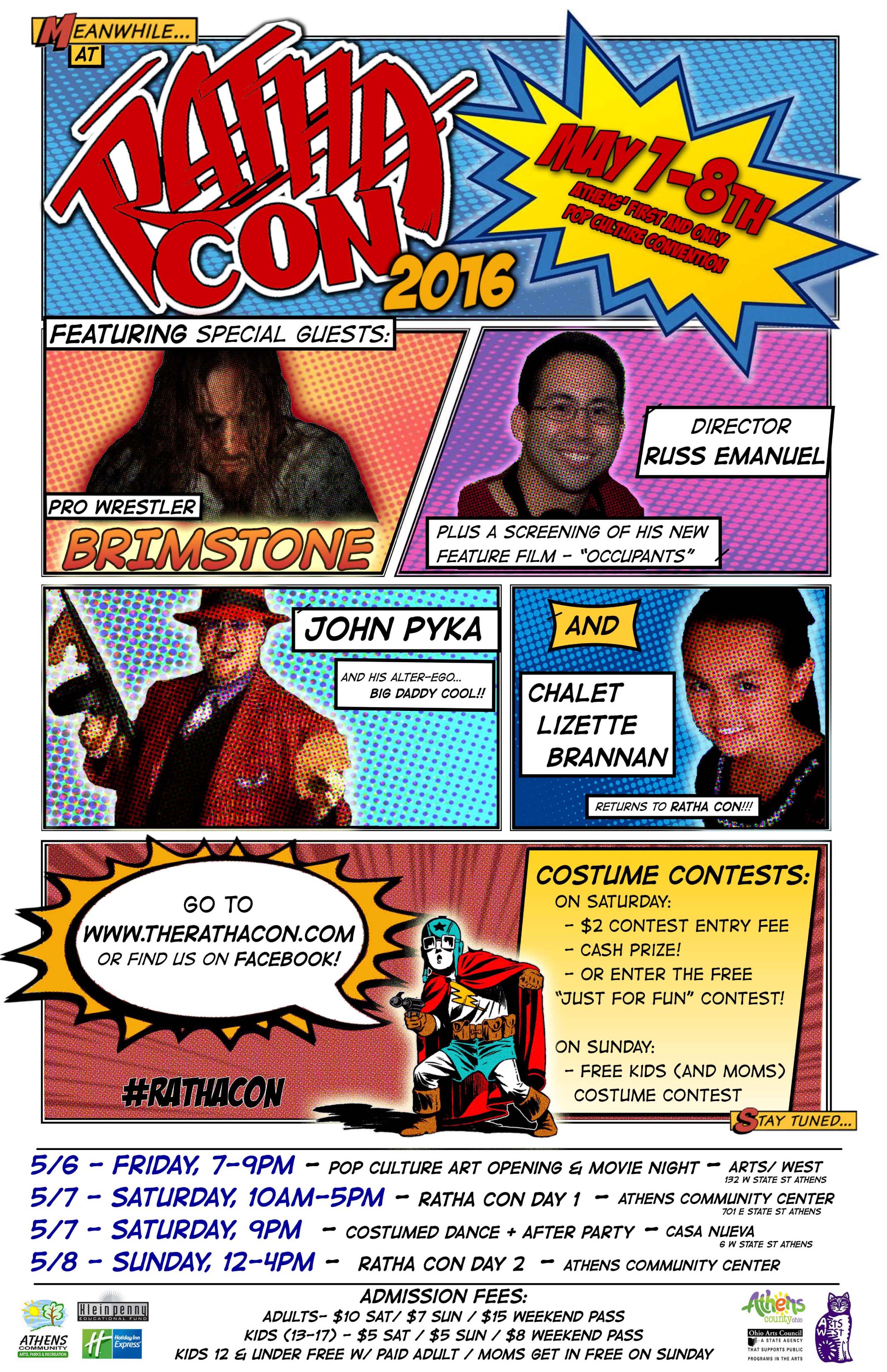 Check out the official Ratha Con website for activities, workshops, guests, directions, and more: www.therathacon.com. There's something for everyone, and all ages! If you've never been to one of our comic conventions, come check it out! I'll be there at the first table on the right as you enter. Come pay me a visit!
Athens Ohio's 5th annual comic convention, Ratha Con, is coming May 7 and 8! I'll be there, offering a workshop on making comic books, and selling my own comic books. See all the activities, costume sontests, and everything you need to know about Ratha Con, click here to go to the official Ratha Con website! Hope to see you there!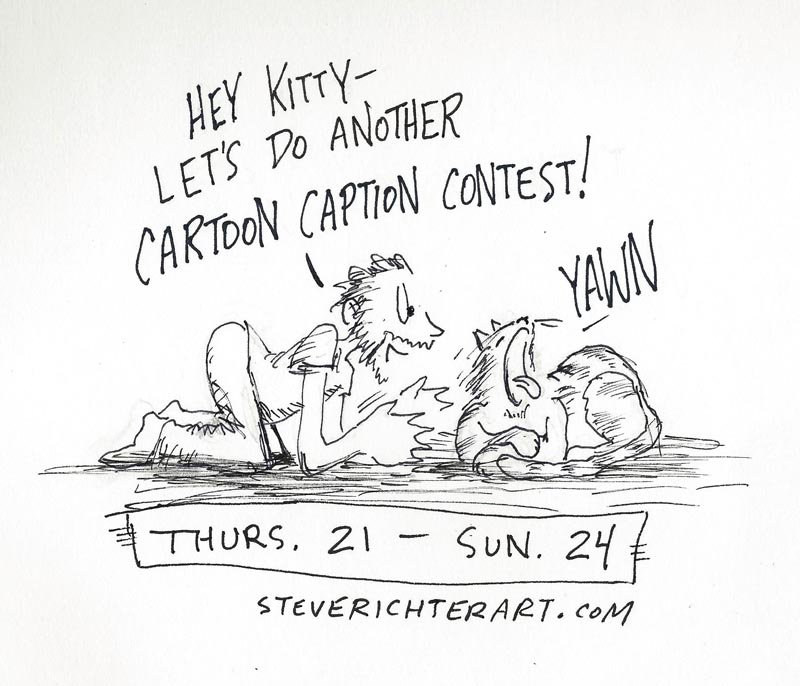 Updated Jan. 2016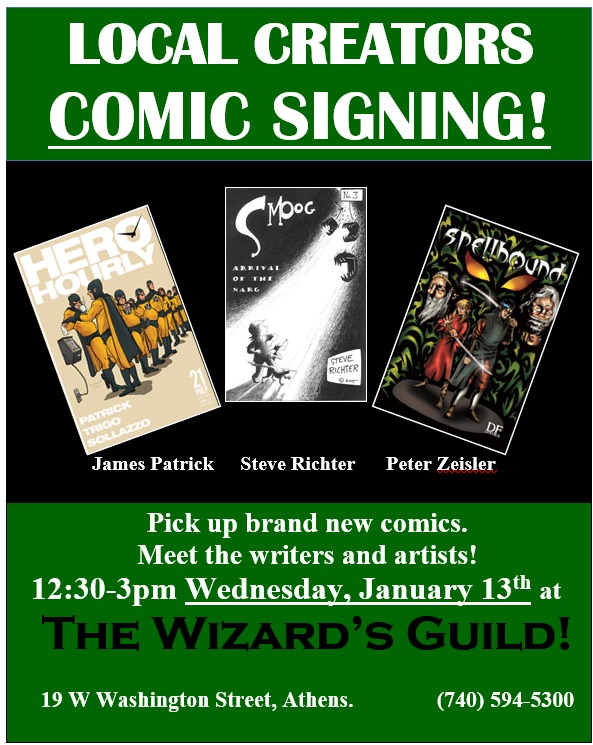 Come visit me if you can! I love company. The event is this Wednesday (Jan. 13) at Wizard's Guild (next to Donkey Coffee) from 12:30 – 3 pm. I'll have all my books there, and there will be other comic book authors there as well.
December 8, 2015: Book Release
Available in bookstores in Athens, Ohio and on this website ("Books & More"), or you can order copies through the mail: Steve Richter, P.O. Box 603, Athens, Ohio, 45701.
The book is $5, as are the other books in this trilogy. Makes a great holiday present!!
Updated May 1, 2015
Our 4th annual Comic Convention, Ratha Con, here in Athens, Ohio is only a week away! If you're near Athens on May 9, come in and see what it's all about. Here's a brief rundown of events, and I'll be there with a brand new comic book on sale, hot off the press!
Visit our official web page: www.rathacon.blogspot.com for more info!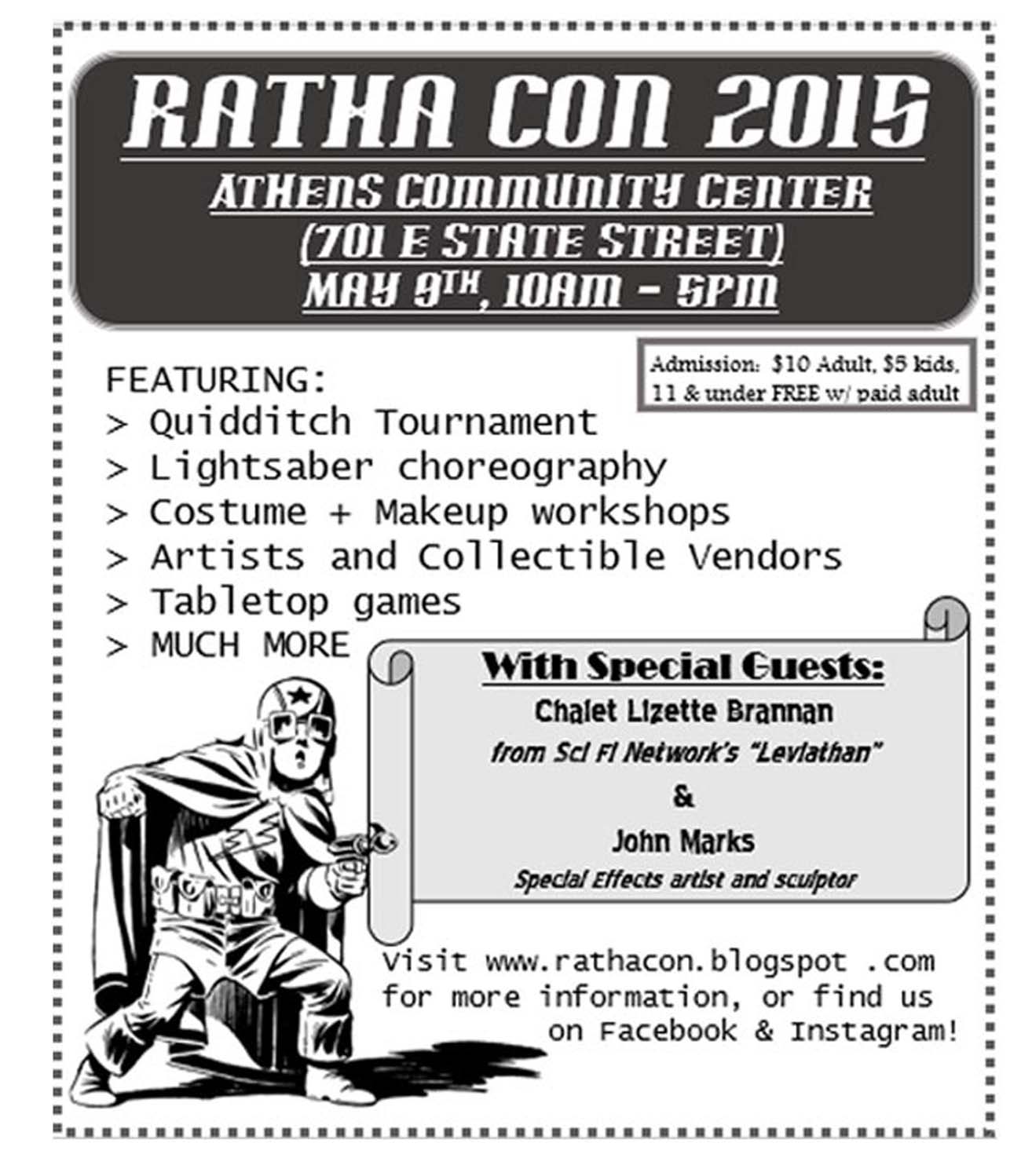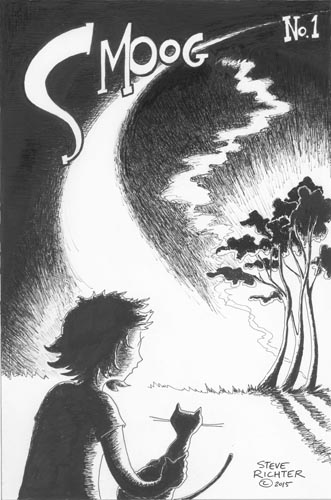 Go to my Blog and see 2 images from the book.
12 page comic book, glossy cover in plastic sleeve, completely original, only 50 copies available for the first print. It's $5.00, and if you can't make it to Athens, I'll send you your own copy with an additional $3.00 handling and shipping fee. Contact me here, or send me a check and your mailing info to: Steve Richter P.O. Box 603,
Athens, Ohio 45701.
2014:
If you happen to make a trip to Athens, Ohio this month (December, 2014), find a few moments to stop in at the Athens Public Library (on Home Street by the Bob Evans) to see my latest exhibit, "Hide and Seek". You'll find 8 panels, all India ink and watercolor, and a story without text. It'll be up all this month, and the Open House Night will be Tuesday, Dec. 16, 5:30 pm – 7:00 pm. I'll take the exhibit down on December 31, 2014, so I hope you get a chance to see it!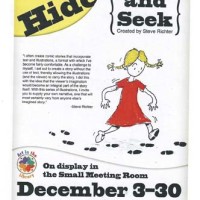 Update: December 2, 2014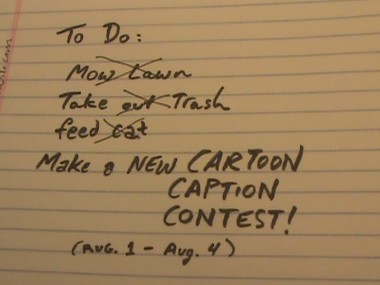 Updated July 2014:
All new Cartoon Caption Contest!
Aug 1 – Aug 4
Sunday, July 27, 10 – 5, Marietta, OH.
River City Comic Con!
June, 2014: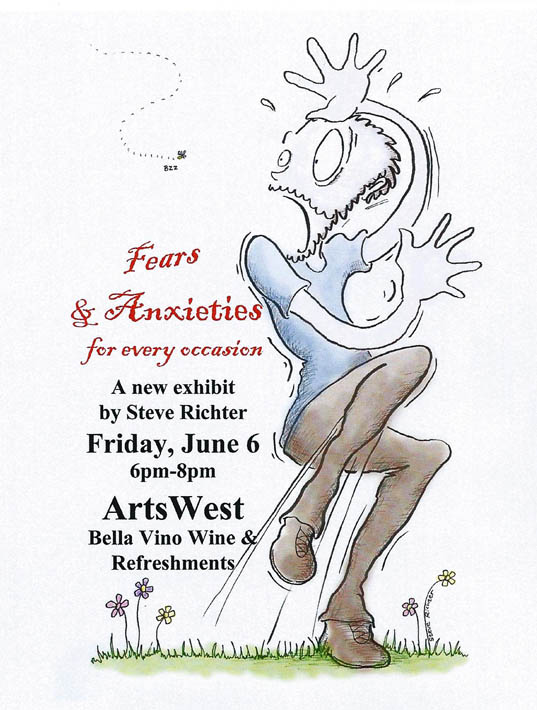 This event opens June 6, and will include a one-night-only appearance of my "Make your own Fears and Anxieties" velcro cards. Should be lots of fun! I'll post some more photos from the event after opening night, tomorrow.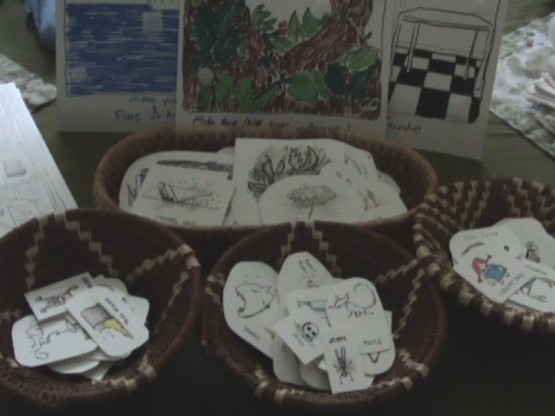 coming in July 2014:
I'll be at the River City Comic Convention in Marietta, Ohio on July 27. More details soon!
Past Events:

Mark your calendars! Tell your friends! "Like" our Facebook Page!https://www.facebook.com/RathaCon
Updated on February 17, 2014
Cartoon Caption Contest, November 2 – 5!
My cat shows her displeasure with the new Cartoon Caption Contest. Watach the video here.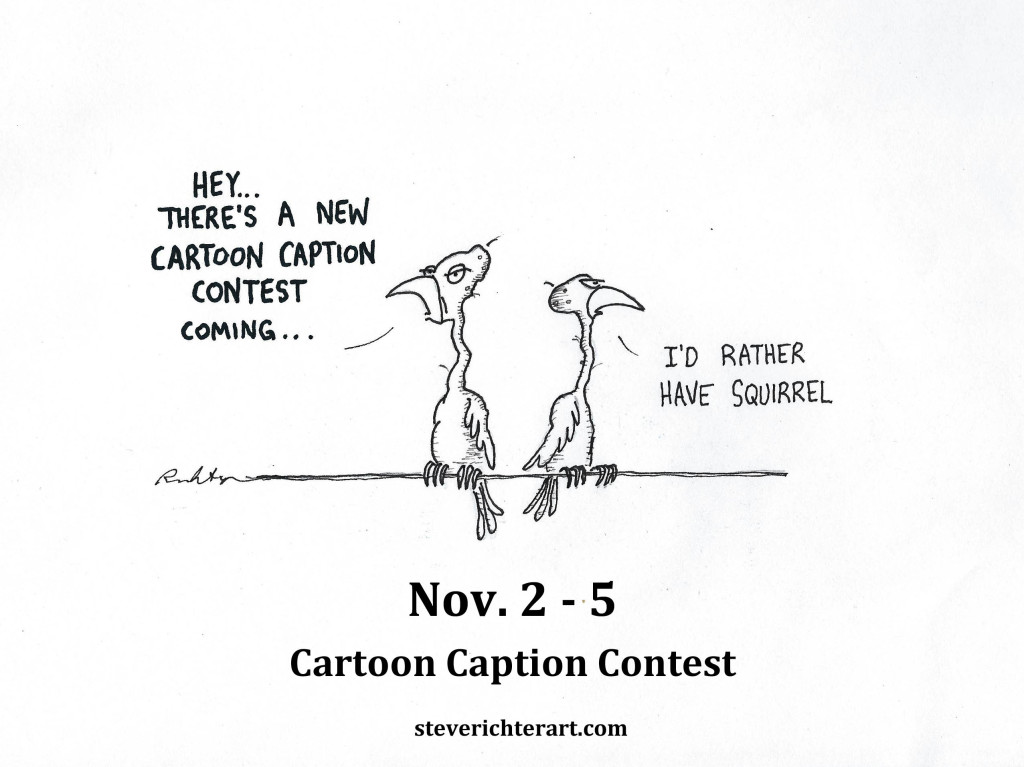 Updated October 31, 2013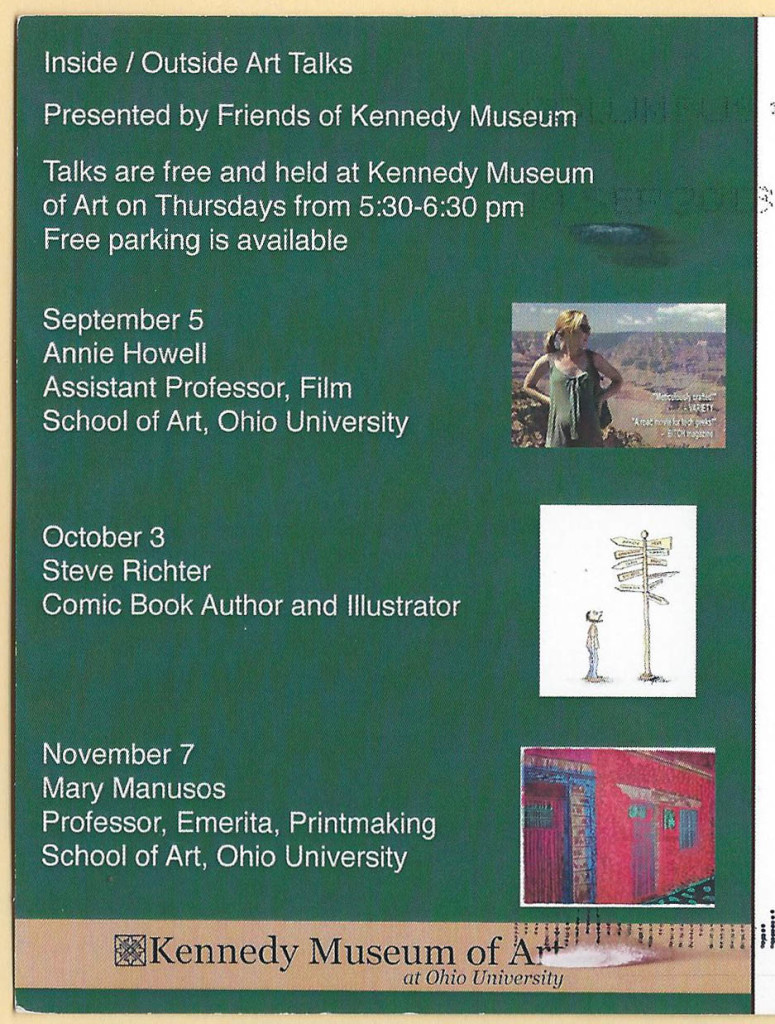 This is a free event, open to anyone who might be interested. I'm honored to have been invited to be a guest speaker at Ohio University's Kennedy Museum of Art's series of talks: Inside/Outside. It starts at 5:30 next Thursday, October 3. I'll share some stories and experiences from from ongoing pursuit of my career as a comic illustrator.
(Updated September 25, 2013)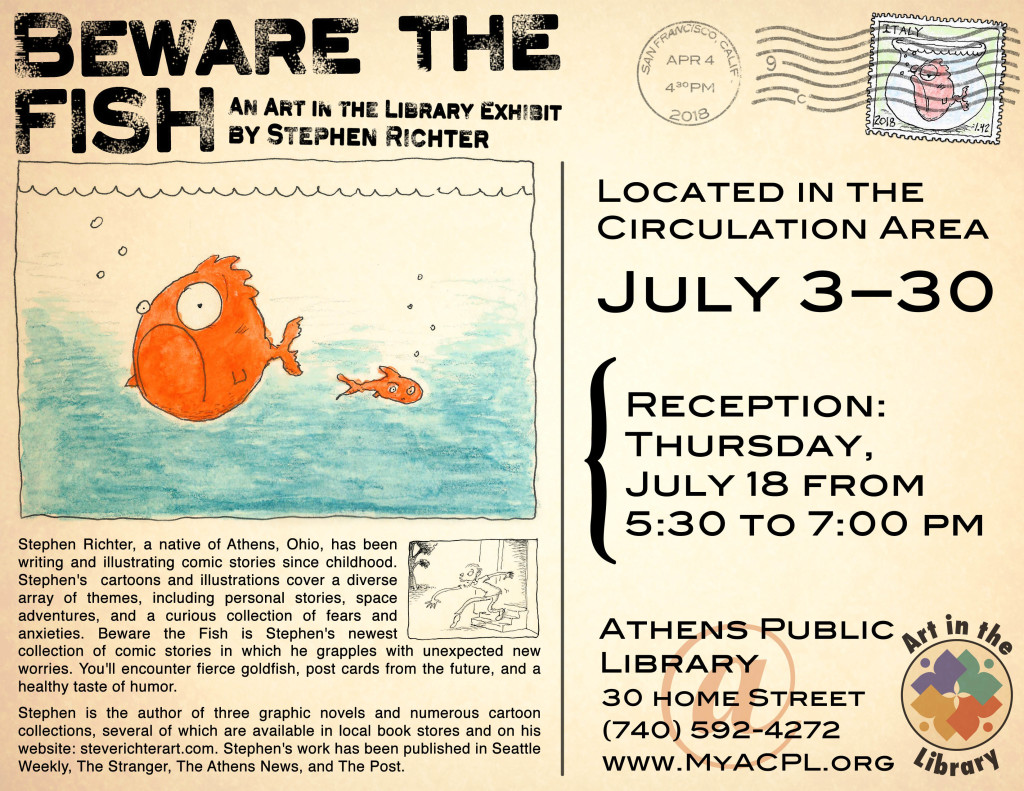 Design by Ryan Spellman. (Thanks, Ryan!)
News from the Past:…..
May 16 – Sunday May 19:
The Cartoon Caption Contest for May! Big Fun! Maybe even prizes! Click here to check it out (or just go to my "Blog" page.
The gallery show continues (weekends) until the last weekend of May. (Click Here to See the promo video!)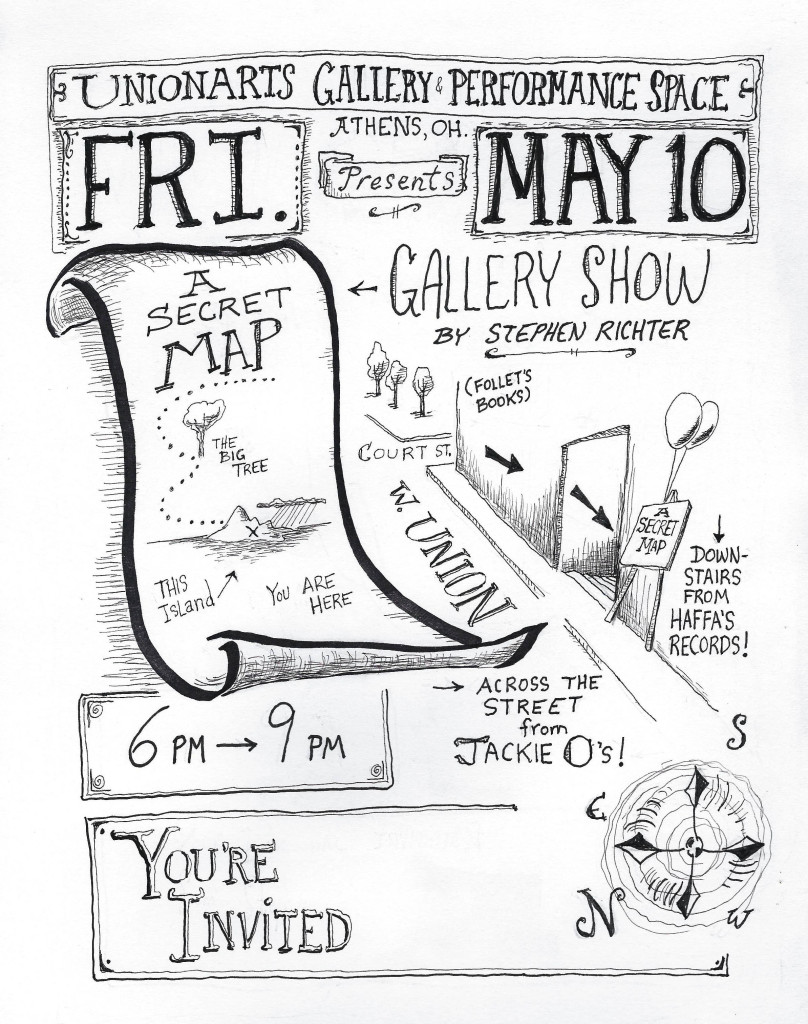 Saturday, May 11, 2013:
https://www.facebook.com/stephen.richter.12?ref=tn_tnmn#!/RathaCon?fref=ts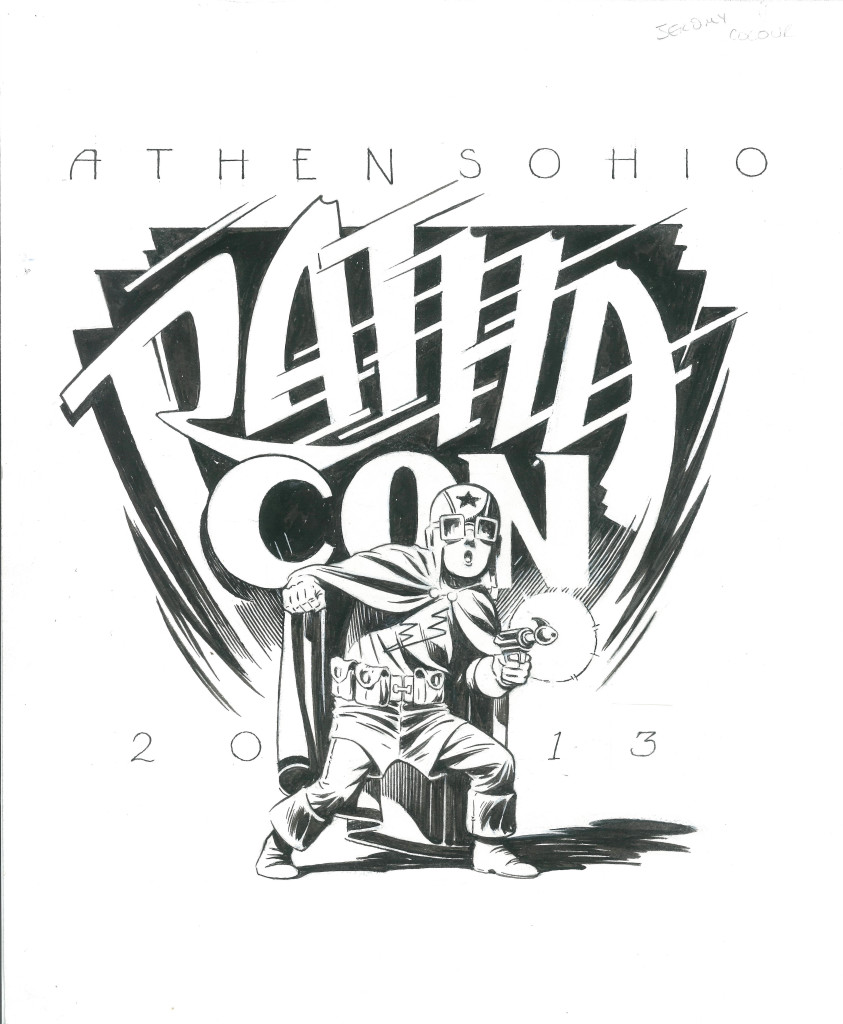 Ratha-Con Comic Convention in Athens, Ohio! Featuring Sandy Plunkett, Terence Hanley, Chris Monday, Steve Richter, and many more! Events start at 10 a.m.! Admission: $5! Games, comics, music, and more! Stay tuned for more updates!  (Above logo by Sandy Plunkett)
*
See the video of me and my cat deliberating on a winning caption for the March contest. (Tensions ran high!)
*
See the March Caption Contest, and the winning caption! http://www.steverichterart.com/uncategorized/cartoon-caption-contest-march-7-10/(Click here!)
*
New Cartoon Caption Contest: March 7-March 10!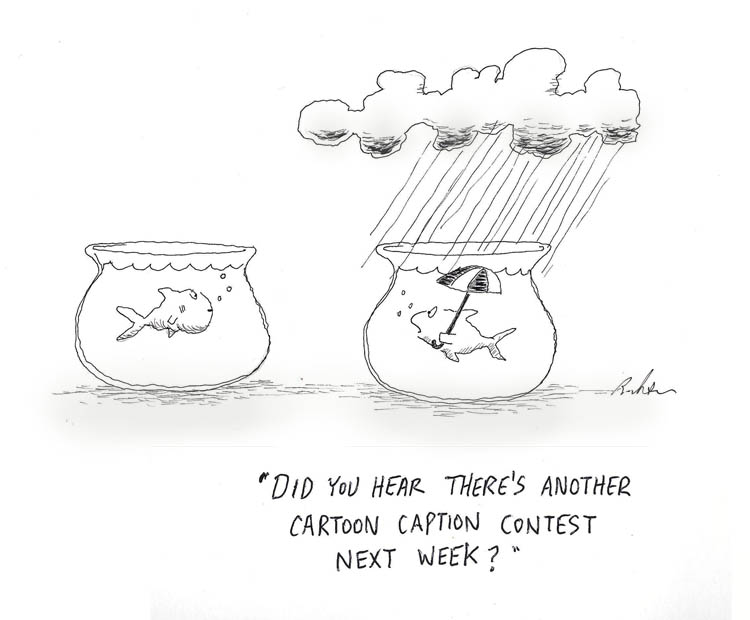 It's easy to play: I'll post a cartoon on my Blog on Thursday, and you post as many creative captions for it as you want in the comments box. On Monday, my cat and I will choose one winning caption. The prize will be your very own personalized greeting card for any occasion you choose (no matter how ridiculous)!
Invite your friends to play, too!
January 21, 2013:
Here's an article written in the on-line magazine Betafish about my work and recent gallery show in Athens, Ohio:
https://betafishmag.wordpress.com/2013/01/22/local-comic-artists-work-is-fluffy-but-fun/comment-page-1/#comment-53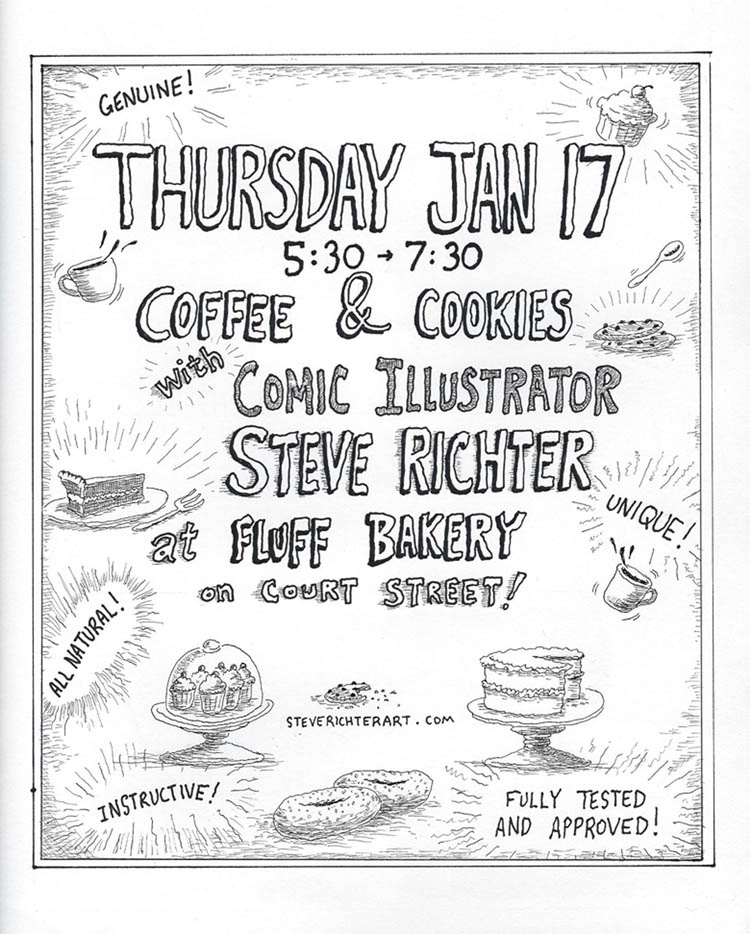 Jan. 11, 12, 13: All New Contest!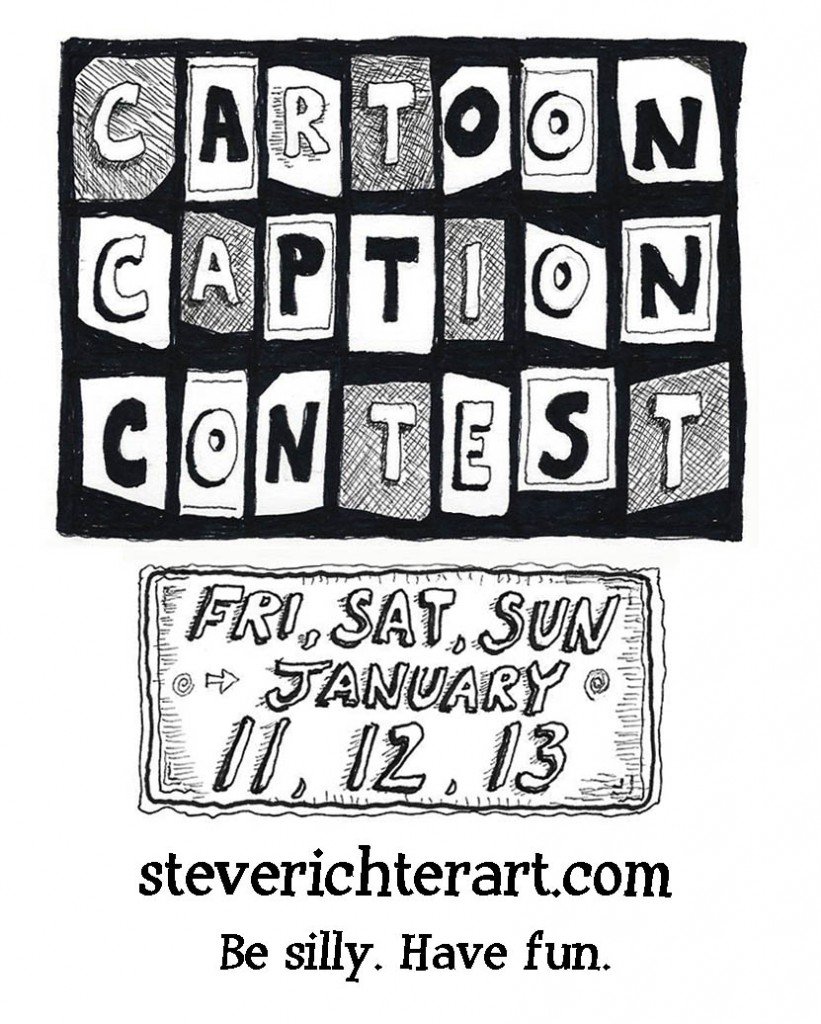 It's easy to play: I'll post a cartoon on my Blog on Friday, and then you and your friends enter your own caption(s) for the cartoon in the space labeled "Comments". My cat and I will choose a winner on Monday: The winner gets an original picture of thieir request drawn by me. Whatever you want, I'll draw it and send it to you! (Remember: when entering captions, you'll be asked to enter a name and an e-mail address. You can make up any name you please, but the e-mail address must be legitimate, and no-one will see it but me (and my cat). Be creative, silly, and have fun!
December 15- January 31, 2013:
Gallery Show at Fluff Bakery on Court Street in Athens, Ohio.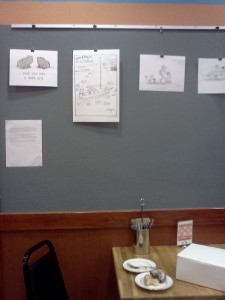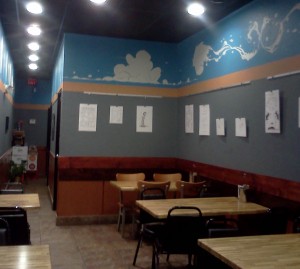 December 1, 2012
Watch this video to see Actual Footage of my cat choosing the 2012 Cartoon Caption COntest Grand Prize Winner! (Dec. 1, 2012)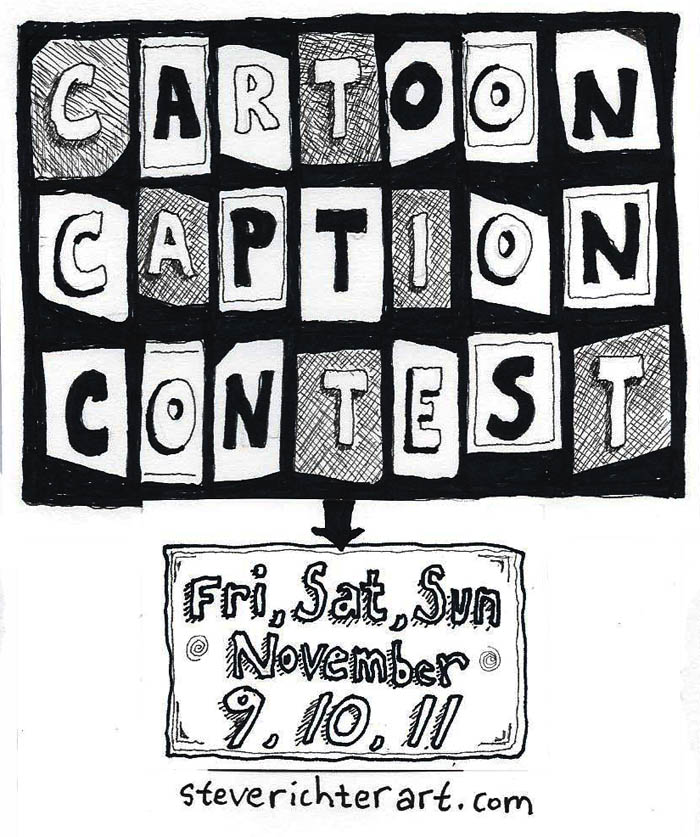 http://woub.org/2012/10/26/dead-funny-athens-artist-digs-laughs-zombies-new-book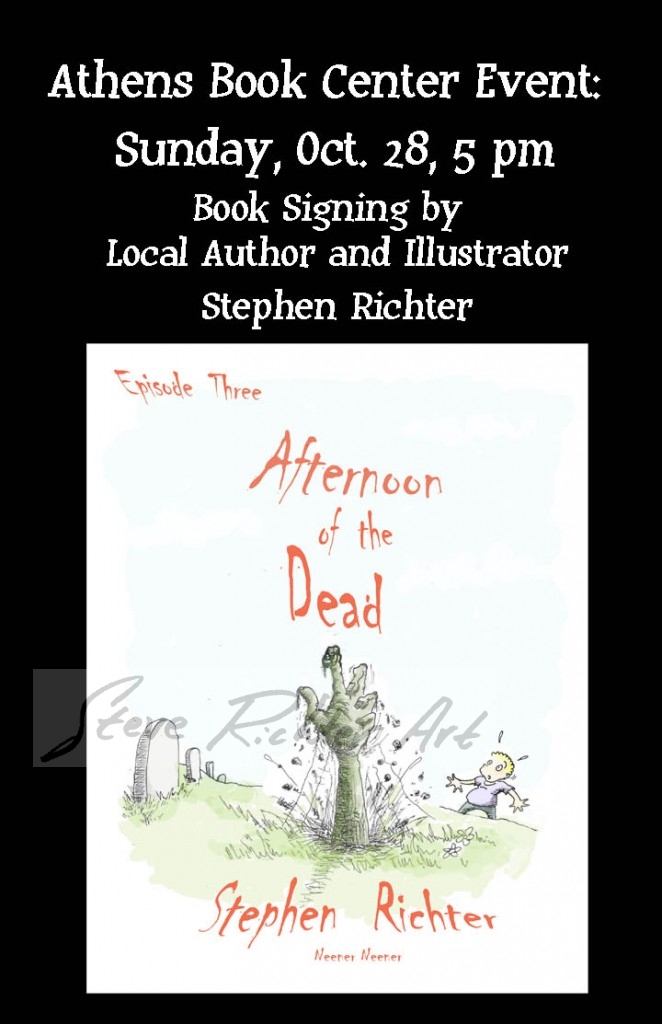 New Book Release! October 17, 2012!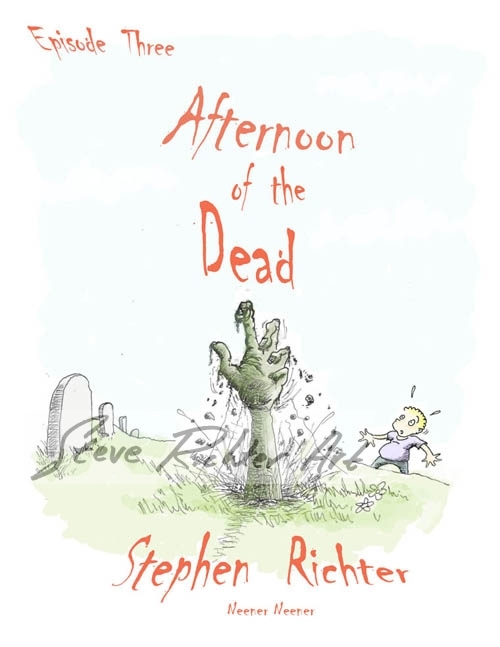 This is episode three of my Neener Neener series books that include Atomic Yardsale (episode one), and Existential Fish (episode two). A book release party is scheduled for Saturday, October 20, 7 pm, at Jackie-O's in Athens, Ohio. If you're in the neighborhood, please stop in!
Order your copy through my "Contact Steve" page until I put it up for sale on my "Fun Gifts" page. The book is $7.99 (plus $5.00 shipping costs if you don't live near Athens). The book is currently available only in paperback. 48 pages, suitable for ages 13 and up.
Copyright 2012, ISBN: 978-0-9883919-0-1
You can view various pages from the book on my Blog (on the navigation bar above). Sign up for the newsletter for more information!
Older entries below:
Click here to see the captions from September's contest:   http://www.steverichterart.com/uncategorized/cartoon-caption-contest-sept-28-30/
See Septmember's winning caption!:   http://www.steverichterart.com/uncategorized/the-winning-caption/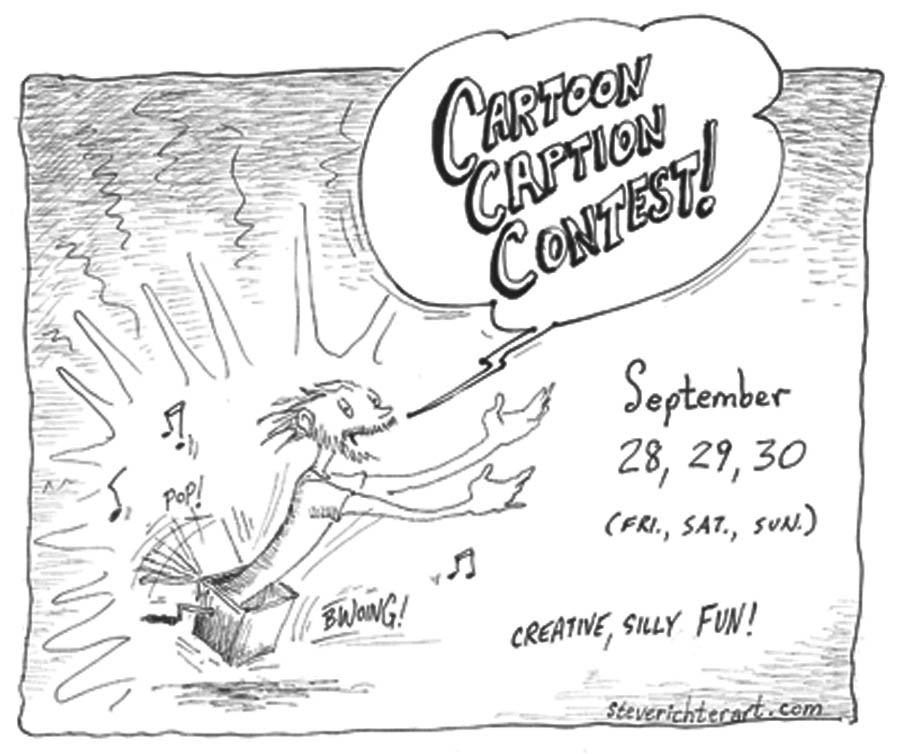 See the Winning Entry for Cartoon Caption Contest (Aug 23-26): http://www.steverichterart.com/uncategorized/cartoon-caption-contest-winner/
New Cartoon Caption Contest, Thursday, August 23 – Sunday, August 26!
Have fun! Invite friends! Win Prizes! I'll post an uncaptioned cartoon, and YOU submit your own creative captions. My cat and I will choose winners from the best and funniest entries! (You can view the previous cartoon contests at the links below, or just visit my blog.)
http://www.steverichterart.com/uncategorized/cartoon-caption-contest-aug-23-29/
August 2012  Cartoon Caption Contest
Friday, Aug. 3 – Sunday, Aug. 5! Come play! Invite friends! http://www.steverichterart.com/uncategorized/all-new-cartoon-contest/
July, 2012  Cartoon Caption Contest
http://www.steverichterart.com/uncategorized/cartoon-caption-contest-july-9-15/
May 2012:
In Athens, Ohio