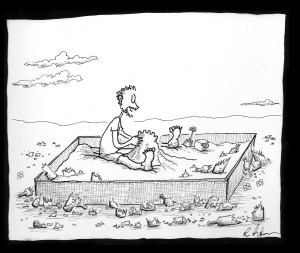 He's usually pretty playful.
    Browse through this tasty sampling of Steve Richter's cartoons, illustrations, and books; Buy any of his Second Rate Cards for your best friends (or beloved enemies!); For the most recent additions to this site, check out the Blog, which has frequent updates. See the Events page for any upcoming cartoon contests, Steve's cat (and videos), current exhibits, and more. View free samples of the Atomic Trilogy books at the Books and More page.
Check out the September Cartoon Caption Contest (Sept. 6 thru 9), and my cat and I will choose a winning caption on September 10. Just go to my Blog, or click on this link to play. Have fun!