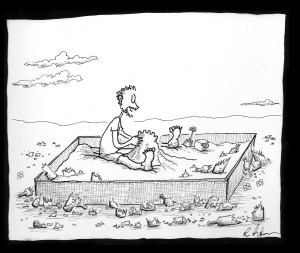 He's usually pretty playful.
    Browse through this tasty sampling of Steve Richter's cartoons, illustrations, and books; Buy any of his Second Rate Cards for your best friends (or beloved enemies!); For the most recent additions to this site, check out the Blog, which has frequent updates. See the Events page for any upcoming cartoon contests, Steve's cat (and videos), current exhibits, and more. View free samples of the Atomic Trilogy books at the Books and More page.
Check out the Cartoon Caption Contest on my Blog, or just click here. There's a lot of great cations, and you can enter your own captions thru June 2. My cat and I will choose our favorite caption on June 3. Have fun!